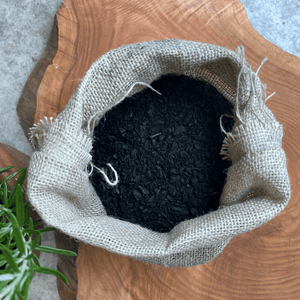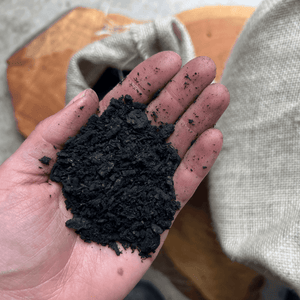 Biochar with Inoculant Powder
Regular price
Sale price
$16.00
Taxes included. Shipping calculated at checkout. Free shipping on UK orders over £50.
---
Buy high quality, fine grade biochar for gardening, horticulture and land management to improve soil fertility and plant health, while acting as a reliable form of carbon sequestration. You only need a small amount: Biochar should make up 10% of your soil. Professionally tested. Expertly proven. Certified for use in soil.
Buy biochar to...
Boost plant productivity and increase harvests
Increase plant water and feed retention
Boost beneficial microbe population in soil
Improve soil drainage and aeration
Create better soil structure
Speed up composting time
Capture carbon
In the box...
Organic biochar in a hessian sack
Nutrient & microbe powder
Instructions for use
100% plastic free packaging
For bulk biochar sales for commercial growers, request a no-obligation trade price.
Free shipping on UK orders over £50.
Our biochar for sale is made from wood which was destined for landfill or incineration and is 100% natural, free from chemicals or toxins. 

Simply combine the inoculant powder with water and stir, then soak your biochar in this liquid for a few minutes. Add straight to your soil or blend with homemade or commercial composts for optimal results.
Our measurements
Biochar absorbs moisture from the air, so you could end up ordering '5kg' of biochar from one company, which might equate to 20 litres because they're careful about keeping it dry (like us), but from another company, it could be 10 litres because they store it outdoors. This is why we always use a volumetric measurement, because then there's no chance of being mis-sold a product. In other words, we don't believe in selling it by weight because you can end up paying for more water than biochar. 
Product description
Biochar is the name given to a special type of high temperature charcoal that is mixed into compost to provide compelling, long term benefits to soil health.  Biochar is extremely porous making it excellent at retaining water and nutrients promoting plant health and microbial activity.

Grain husks, fruit pulp and wood shavings are heated to 600°C in a carbon negative system and then extinguished with water. By turning waste materials into biochar we are intercepting carbon which otherwise would be released through the decomposition or incineration of the waste biomass. 

The process of making biochar turns the carbon into a solid crystalline structure, which when added to soil, remains safely stored long-term. This is why the IPCC and Project Drawdown refer to biochar as a nature based carbon sink, expected to prevent 2.2-4.4 billion tonnes of CO2 from entering the atmosphere by 2050. 

To get the best out of biochar, it should be mixed with nutrients and microbes - a process known as charging, inoculating or activating. We supply our pure biochar with an inoculant powder mix containing a blend of beneficial bacteria and fungi as well as a little bit of seaweed and humic acid for fast, optimal results.
Instructions for use
Biochar works best when added to soil at a rate of 10% by volume.
5 litres of biochar is enough to try out with 50 litres of compost

10 litres of biochar is enough to try out with 100 litres of compost

20 litres of biochar is enough for 200 litres of compost

Bulk biochar is most economical for large projects – request a no-obligation trade price
The ratio between litres and kilograms for biochar depends on the moisture content, as the more moisture in the biochar the heavier it becomes. Our biochar has a moisture content compliant with the European Biochar Certificate. The weight to volume ratio is 0.2 kilograms to 1 litre of biochar.
How much CO2 am I saving when I buy biochar?
When you buy biochar, you are preventing CO2 from entering the atmosphere. 

For every tonne of biochar we make, we are preventing 2.5 tonnes of CO2 from being released into the environment. When you buy a bag of biochar, you will be actively helping to mitigate climate change by capturing carbon in your soils.

Our carbon removal process is certified by Carbonfuture and we generate carbon offset removal credits for those who are looking to reduce their remaining, currently unavoidable, emissions. We offer bulk biochar sales for industry and large projects in the UK. If you would like to get a no-obligation quote for large biochar quantities with carbon credits, please contact us using our online form.